*I am now posting as a regular contributor at Macrobusiness under the alias Rumplestatskin. I will be posting copies of posts at both websites for the coming weeks.
I was recently in touch with a Swiss friend of mine who casually mentioned that the Swiss government was taken action to help their economy adjust to the undesirable strength of the Franc (CHF), shown in the charts below. Given that the Australian government and the RBA have been silent about the disruptive impact of the high dollar on manufacturing, tourism and education, it makes for an interesting comparison.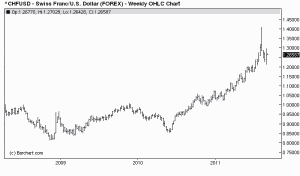 On the financial battleground, it appears that not only has the Swiss government lowered interest rates to zero and
intervened to increase liquidity
and help weaken the currency, they are also
talking about deposit fees
to make their currency less attractive to the tsunami of financial speculation surging around the globe.
(Also bizarre is that this high currency nation perched in the Alps has a GDP which is
comprised of 50% exports
, with net exports at 12% of GDP. Indeed Switzerland has been a net exporter of goods and services every quarter since 1981. Meanwhile our exports are
just 21% of GDP
and we have been a net importer in annual terms for decades.)
In addition to directly targeting the currency, the Swiss are taking on the challenge by trying to boost productivity to 'make room' for a higher currency. The Swiss
Commission for Technology and Innovation
(CTI) has boosted efforts to commercialise new technologies to offset currency impacts on Swiss manufacturers by doubling the value of grants accessible in the next twelve months, and broadening the qualifying criteria. After all, innovation in production techniques is the key to improving productivity and economic growth.
No doubt such investment is driven by Johann Schneider-Ammann, Head of the Federal Department of Economic Affairs, who appears
to understand and promote
the role of productivity as the driver of growth. In a
recent speech
entitled
Strengthening Switzerland as a manufacturing location,
made at the opening of a new Nestle production centre, he made the following comments (my emphasis).
We must continue to invest in training, research and innovation. It is essential for personnel at all levels to be well trained. Thanks to our dual-track system of vocational and professional education and training, we have programmes with a strong practical focus. Education, research and innovation must be given top priority. Switzerland should continue to produce talent of the highest calibre. Only in this way can we maintain our leading innovative position and continue to be competitive.
Market liberalisation and the removal of trade barriers are essential for Switzerland, and especially for a multinational company such as Nestlé. We are familiar with the problems and challenges which the global product trade faces on a daily basis. I therefore aim to ensure that we have access to the important growth markets and remove unnecessary trade barriers within Switzerland and abroad. I am in favour of extending our network of preferential agreements with major dynamic economies such as China, India and Russia.
I am aware of the agricultural policy framework under which food companies such as Nestlé produce in Switzerland. These are currently compounded by the strong Swiss franc. This is weakening our export competitiveness considerably. I assure you that I will do everything I can to maintain or improve current conditions for Swiss companies which export abroad including the food industry.
The labour market in Switzerland is flexible, and should remain so. The freedom of movement between Switzerland and the EU is to our overall economic advantage. Nonetheless, we still require accompanying measures to ensure that this advantage is not weakened. I also believe in the importance of nurturing a healthy relationship between social partners.
One could argue that if Australia did not have mineral and energy wealth to fall back on, we would be doing similar things and would have our leaders making similar speeches out of necessity. Perhaps that's true. But choosing the short term lazy option of quarry Australia, which has been promoted by the RBA and others, is not a recipe for a stable and prosperous economy. As I have said
before
:
My main concern is that frighteningly, the RBA, and probably much of the government, sees Australia's future as a single bet on mining, and is willing to sacrifice much of the remaining economy for this to happen. Unfortunately this is a lose-lose proposition for most of the country.
All other sectors of the economy lose while the mining investment booms. When it crashes, we all lose because there is nothing else left in the economy to absorb capacity in a relatively short period. Remember, the minerals will be in the ground if we don't mine them now, but the decades of production chains elsewhere in the economy are easily destroyed and slow to rebuild.
I acknowledge that the RBA has a single tool in its toolbox, but surely the message we should be hearing is that a strong and stable economy is a diverse economy. Quarry Australia is a very volatile and risky place to want to be.
We could learn some lessons from Swiss economic policy.